The Hon. Arthur G. Scotland Judicial Award at McGeorge School of Law was established in 2023 to honor former presiding justice of the California Court of Appeal, Third Appellate District Arthur G. Scotland, '74.
The award supports McGeorge School of Law students and graduates pursuing a judicial clerkship or placement. The first recipients of the award were Michael Ung, '23, and April La Torre, '23.
Ung is a judicial law clerk for the Hon. James Russell, '74, at the First Judicial District Court of Nevada. He is actively working on obtaining both his California and Nevada Bar certifications, with the goal of having the flexibility of practicing in both states.
After his one-year clerkship, Ung wants to give back to the community and gain professional experience by working in a Public Defender's Office in Nevada. His long-term goal is to work in family law. He is appreciative of the award as it has lessened the financial burden on his parents, who are also financially supporting his siblings in pursuing other higher education degrees.
"The Justice Arthur G. Scotland Judicial Award was incredibly helpful to me, especially when I was studying for the bar exam. In the 10 weeks of studying for entire days and not having the time to work, this award financially supported my needs. I could afford groceries and gas and keep up with bills," Ung said. "It provided financial comfort during the most challenging times in my academic career."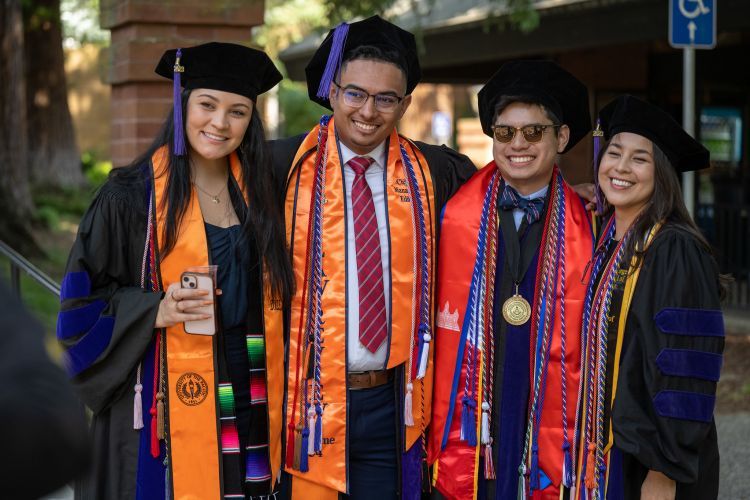 La Torre shares that the award allowed her to cover the overhead costs of moving to Honolulu, Hawai'i to serve as a judicial law clerk for the Hon. Judge Shanlyn A.S. Park in the First Circuit Court of the State of Hawai'i.
"Clerking for Judge Park has been, and will continue to be, the perfect place for me to begin my career here on O'ahu. I am privileged to have joined Judge Park at Circuit Court and enjoy the ongoing opportunity to meet esteemed members of the legal community," La Torre said.
She thanks the award and its committee for financially supporting the start of her legal career. After her clerkship, April plans on obtaining her Hawaii State Bar certification and serving the community in O'ahu.
"I am honored to have received this award because it has affirmed my decision not only to begin a legal career, but also to begin my career on Oahu. I appreciate the interest and faith that the committee has given me," La Torre said.
McGeorge School of Law named the judicial award in honor of Justice Scotland in commemoration of his over four decades as a legal professional, including 23 years on the bench.
"The superb legal education and helpful financial assistance I received at McGeorge School of Law paved the way for my career in the law, primarily in public service. I am pleased that the judicial award established by my alma mater will help others pursue their passion to promote the rule of law," Scotland said.
After graduating from the University of California, Davis, Justice Scotland served as a law enforcement officer with the California Department of Justice from 1968-1971. He later earned a JD degree from the University of the Pacific McGeorge School of Law in 1974 and graduated with honors.
After serving as a deputy district attorney in Sacramento County from 1974-76, California Deputy Attorney General from 1976-83, and Cabinet Secretary to the Governor from 1983-87, he was appointed a Superior Court Judge by Gov. George Deukmejian in 1987. In 1989, he began serving on the Court of Appeal and became its presiding justice in 1998, appointed by Gov. Pete Wilson. He retired from the bench in 2010.
Scotland "failed retirement" and continues to practice law as of counsel to the Nielsen Merksamer law firm.
---
For more information about McGeorge School of Law, visit our website.
Media Contacts: